I started playing poker 3 years ago with the view to one day being able to cash out regularly and give myself a weekly wage of sorts. Back then my goal was to be a 5/10 regular with a 60K bankroll before I started cashing out. Last December I hit that goal but nevertheless decided to persevere on and try to be a 5/10-10/20 regular with a 120K bankroll before cashing out.
Now, just two months later, I've made it.
Granted, I cheated a little bit with a huge tournament score to help me along the way but still, it feels awesome. It happened a few days ago after I had booked a nice winning session and decided to tally up my various accounts to see where my roll was at. I had expected to be around the 115K mark, but after counting, I stared at the beautiful figure of $121,346.85! I immediately cashed out $1,346.85 straight into my bank account and revelled in the fact that I had finally done what I had wanted to do for so long – a cash out made not out of necessity, but merely because I had more money than I needed online! Now I can play knowing that every dollar I make will be one more dollar in my bank account, not merely another dollar towards building my bankroll. I know that might sound like a petty difference, but for me it's really exciting.
Anyway the end of February was good to me and I actually stopped playing a couple of days ago once I hit the 20K mark. Uni restarts next Monday so I thought it'd be wise to take these last five or so days off and just relax a bit (relax from online poker that is, there's a live $500 six-max tournament that I want to play this Sunday if I feel up to it). Here's my graph and results for February, by far one of my most swingy months ever.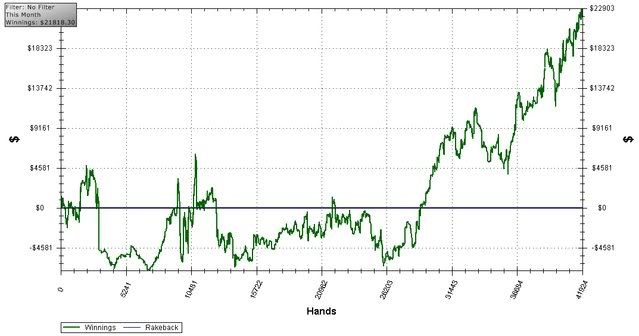 I'm now up about $75K for the year, $22K from cash games and $53K from tournaments. This puts me well on the way to making my goal of $200K for the year, but with uni around the corner and freak tournament finishes unlikely to repeat themselves, I'll probably find myself just at par in the pretty near future.

I've been thinking more about my game recently trying to work out ways to better compete in the tough 5/10 and 10/20 games. The first thing I've decided to do is to try playing without a HUD, something that many top pros recommend as it really forces you to concentrate on your opponents and their tendencies. My game certainly made drastic improvements last year when I cut down my HUD from 10+ stats to just 3 and I started watching my opponents more. In recent times though I've noticed that I've become lax again and started multi-tabling loads and playing almost on auto-pilot. I think the reason for this is that I realised that I simply didn't need to pay full attention to beat the 3/6 games anymore, something which wasn't true six months ago. Hopefully by playing without a HUD and by dropping 3/6 from my roster altogether I'll be forced to continue improving and I won't develop bad habits or stagnate as a player. It would be all too easy for me to just keep playing 3/6 forever and win there without ever stepping outside my comfort zone (and I know a lot of people do this and to be honest it's perfectly fine; once you reach 3/6 the money is after all very good), but I really want to one day beat 10/20 with the same ease as I beat 3/6, so I really think that this is the best course of action, even if it does mean challenging myself a bit more than I'd like in the short term.

The second thing that I've been thinking about doing is getting some coaching. I looked into it a little bit last year and it was mind-boggling to see just how many people are involved in coaching in some way, either as a student or as a coach. I was particularly surprised to see that a lot of the second-tier DC instructors were coached at one stage or another by the top-tier DC instructors. For some reason I had always assumed that every instructor was just a genius poker player in their own right but it seems that even the top players got coaching! At the moment I'm not sure whether to choose a poker 'superstar', someone like whitelime or aejones, or someone who is more familiar with the games that I play, someone like iRock in particular. I'll definitely think about it more in the coming days.

And last, but not least, I've decided to renew my subscriptions to DC and Leggo and to sign up to BFP. I got really lazy with watching videos towards the end of last year and decided not to renew DC when it expired in December since I had this huge backlog of videos to watch and I was away for virtually all of January anyway. Now that everything's back to normal again though I'm going to make a concerted effort to keep up to date with videos and stay ahead of the game so to speak.

Anyway, that's another good month in the books! Let's hope the rest of the year brings more of the same.